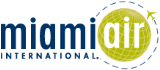 Miami Air International, the US charter operator of seven Boeing 737 aircraft, announces the promotion of Jennifer Cook to Director of Sales.  Jennifer has been an Account Executive since 2005.  Cook reunited with Miami Air International in 2005 as an Account Executive, a position that she also held in the 1990s.
"I am passionate about this business and the awesome customers I get to work with every day, and over the years I have developed my own style and processes that have really made it easier for those customers to buy the premier charter experience from us," Cook explained.
Miami Air International began operating two Boeing 727 aircraft in 1990 around the Caribbean for vacations.  Today the air carrier operates five Boeing 737-800's configured for 172 passengers, and two Boeing 737-400's VIP-configured 68 passengers.  The fleet is based along the eastern seaboard and in Texas.
Miami Air International's entire fleet is available in Flightlist Pro.